CONTACT & LOCATION
Connect with Us
—
Located across from Parque el Virrey, Jazz Apartments Bluedoors is situated in the best area to stay when visiting Bogotá, Colombia. From the moment you arrive, our staff is dedicated to making your business trip or holiday as pleasant and relaxing as possible.
Jazz Apartments Bluedoors
—
Should you have any questions or comments or require tourism information and assistance for your stay in Bogotá, please contact us, and a member of our staff will be happy to assist you.
Contact Us
Calle 87 N° 15 35
Chapinero
110221 Bogotá, Colombia
Jazz Apartments - Bogotá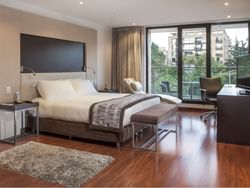 Virrey Park
—
Elegant, modern and unique, Jazz Apartments offers comforts of home with convenience of the office. Located near El Virrey Park in Bogotá.