LOCAL ATRACTIONS
Explore the Top Bogota Attractions
—
Find just about everything you want to experience in Bogotá within a short walk of Jazz Apartments Bluedoors. With an engaging staff who specializes in making you feel at home and a convenient location near the most popular attractions, activities and things to do, we'll help you explore Bogotá like no other hotel can.
Looking to sample the capital's exclusive shopping? Our experts know all the secrets, starting with Andino, Retiro and Atlantis Plaza. Planning a night of dinner and rumba dancing in Bogotá's Zone T, Andrés Carne de Res D.C. or 93 Park neighborhood? Let us make the arrangements, including transportation and restaurant reservations.
To learn more about things to do in and around Bogotá, from museums and historic attractions to live music clubs, Jazz Apartments Bluedoors is ready to serve as your gateway to the city. Be sure to ask about our variety of touristic packages.
Jazz Apartments - Bogotá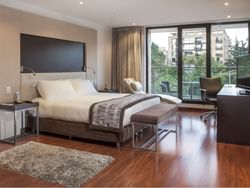 Virrey Park
—
Elegant, modern and unique, Jazz Apartments offers comforts of home with convenience of the office. Located near El Virrey Park in Bogotá.
Zona T
—
"Zona T" is a distinguished area home to the most renowned worldwide boutiques as well as Colombia's top brands. Here you will also find three of the best shopping centers and excellent restaurants.
Chico Museum
—
Visit this intimate museum to browse ceramics, glassware, textiles and religious paintings displayed in a colonial hacienda with a chapel.
Virrey Park
—
Located across the street from the hotel, Virrey Park offers a relaxing, a natural and peaceful environment a few steps from Zona T and Parque de la 93.
93 Park
—
This neighborhood is a great place for a stroll, and offers great restaurants and nightlife. In addition to occasional artwork and seasonal festivals, it's also one of the best spots any day for a city picnic with views up towards the mountains.